The court denied both the end payors' and indirect purchasers' motions for class certification in this pharmaceutical reverse payment antitrust case.
Retained by Munger, Tolles & Olson and by Kaye Scholer
Counsel for the defendants, Mutual Pharmaceutical Company and King Pharmaceuticals (now owned by Pfizer), retained Professor James W. Hughes of Bates College and Cornerstone Research to address class certification issues. This multidistrict litigation involved both an end payor (third party payor) class and an indirect purchaser (retail pharmacy) class. The plaintiffs alleged that the defendants conspired to prevent or delay entry of a generic version of the branded pharmaceutical Skelaxin.
In his decision, the judge cited several facets of Professor Hughes's arguments.
Professor Hughes submitted expert reports on behalf of the defendants in both matters, in which he demonstrated that the incidence of injury and the extent of damages to any individual class member could not be determined with class-wide evidence. In the end payor case, he demonstrated that determining whether any individual end payor for a given prescription would have been injured by the defendants' alleged actions would require individualized inquiry because of the complexity of contractual relationships among the parties involved. Professor Hughes used the diagram below to demonstrate the flow of payment and the complexity of determining impact, and the judge included this diagram in his decision.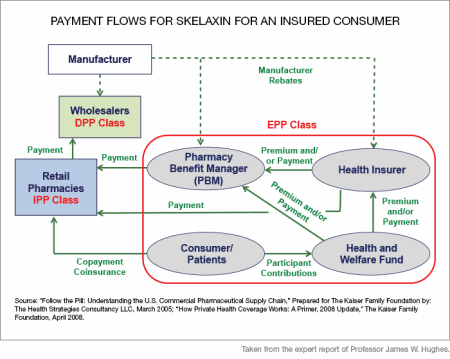 In the indirect purchaser case, Professor Hughes explained how some, if not most, retail pharmacies were more profitable selling the branded drug than the competing generic. Determining which pharmacies would have been injured by the plaintiffs' allegations, therefore, would also require individualized inquiry.
The U.S. District Court of the Eastern District of Tennessee issued a ruling denying certification for both purported classes. In his decision, Judge Curtis L. Collier cited several facets of Professor Hughes's arguments. The judge concluded that, "The individualized fact-finding required to shape the proposed class is inconsistent with class treatment."